GUT MICROBIOTA WELLBEING: The human gut microbiome and its role in both health and disease has been the subject of extensive research, establishing its involvement in human metabolism, nutrition, physiology, and immune function
Imbalance of the normal gut microbiota have been linked with gastrointestinal conditions such as inflammatory bowel disease (IBD) and irritable bowel syndrome (IBS), and wider systemic manifestations of disease such as obesity, type 2 diabetes, and atopy.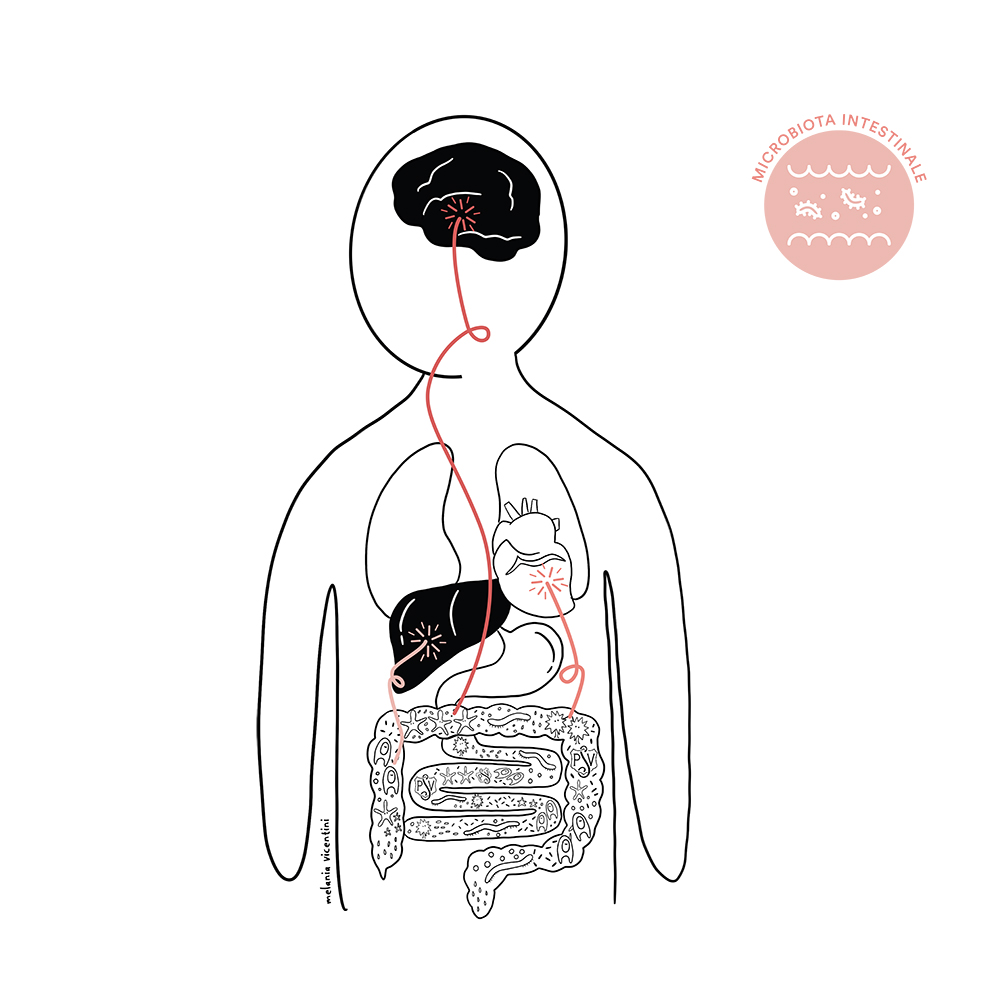 LACTOBACILLUS LACTIS
LACTOBACILLUS PARACASEI
BIFIDOBACTERIUM BREVE
LACTOBACILLUS RHAMNOSUS
LACTOBACILLUS PLANTARUM
LACTOBACILLUS ACIDOPHILUS
BIFIDOBACTERIUM BIFIDUM
Inulin
Curcumin from CURCUMA
Sylimarin from MILK THISTLE
Folic acid
Cinarine from ARTICHOKE
Schisandrin from SCHISANDRA
Ellagic acid from MELOGRANO​
Lifestyle: moderate and regular physical activity is recommended.
Scientific studies have shown that many health problems have their root cause in a malfunction of the intestine, resulting from an alteration of the bacterial flora, commonly known as "DISBIOSIS", the most frequent manifestations of which are intestinal fermentations and putrefactions.
These phenomena in addition to intoxicating the body, contribute to significantly lowering our "immune defenses".
Our intestine, in fact, is responsible for protecting against attacks from pathogens.
In a dysbiotic intestine this mechanism is in deficit and this makes our organism more vulnerable, also increasing the toxin load, since the mucosa, becoming permeable, lets the toxins pass which enter the lymphatic system and blood, accumulating in the organs. filter.
This can lead to the manifestation of various symptoms such as:
ALLERGIES, SKIN DISEASES, CHRONIC HEADACHE, DIVERTICLES, HEART DISORDERS, DEPRESSION, ASTHENIA-PHYSICAL AND MENTAL TIREDNESS, INFECTIONS, INFLAMMATIONS, ARTHRITIS, POLYARTHRITES, ARTHROSIS, RHEUMATISM, HEAD DISEASES, ASTHMA, ASTHMA, PROSTATE PROBLEMS
This website does not provide any medical advice. Information on this Website is provided for informational purposes only and is not intended as a substitute for the advice provided by your doctor or other healthcare professional. You should not use the information on this Website for diagnosing or treating a health problem or disease, or prescribing any medication or other treatment. You should always speak with your doctor or other healthcare professional before taking any medication or nutritional, herbal or homeopathic supplement, or adopting any treatment for a health problem.