DISTURBI DELL'APPARATO UROGENITALE:
cystitis
urethritis
nephritis
prostatitis
prostatic hypertrophy
renal colic
kidney stones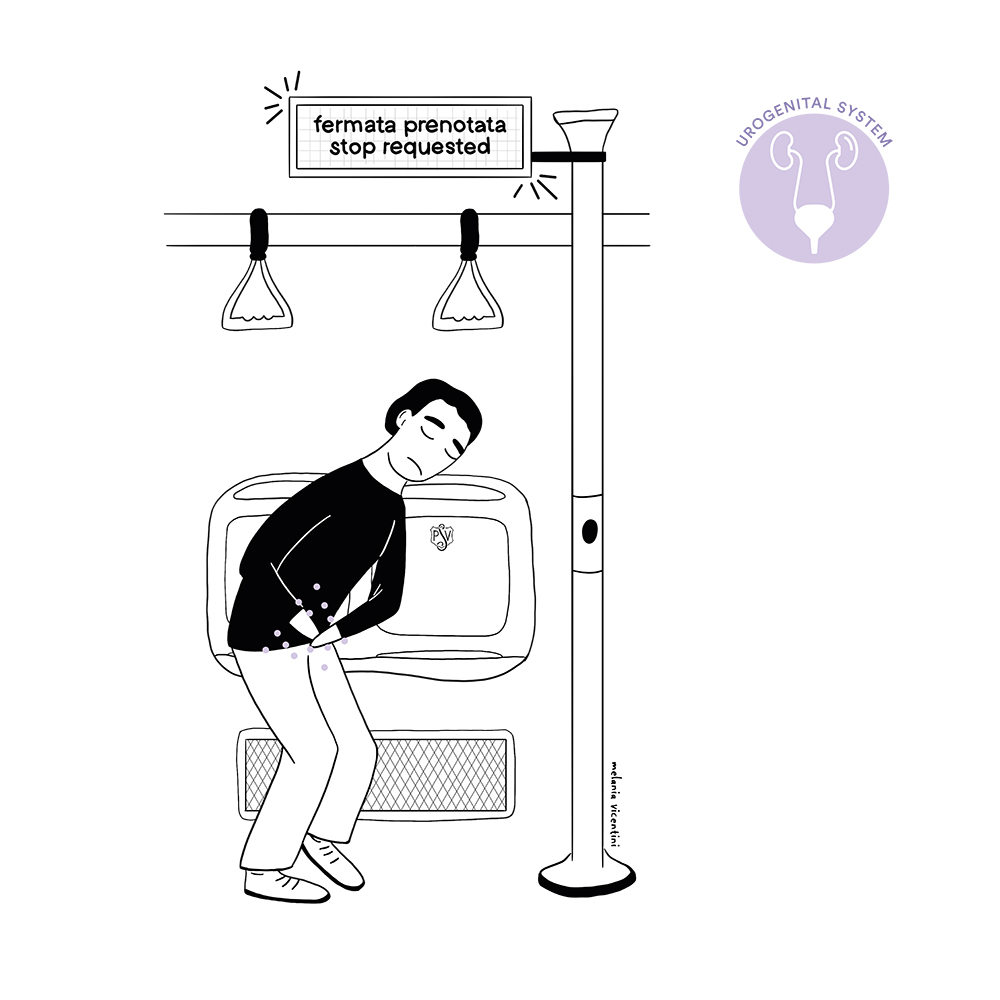 Stile di vita: totally avoid eating pepper and alcohol. Drink water frequently during the day. Make hot sitz baths when there is no bleeding. Always consult your urologist doctor..
USEFUL TO KNOW FOR UROGENITAL SYSTEM WELLBEING: Anatomical differences, in particular the different length of male and female urethra, also affect the appearance of problems affecting the urogenital tract. For this reason women, having a relatively short urethra, are also more subject than men to the rise of urogenital tract infections.
Urinary tract infections occur when bacteria, by penetrating through the urethra (the conduit that carries urine from bladder to the outside) proliferate and multiply in the urinary tract. Bladder infection, called cystitis, is the most common type of urinary tract infection, characterized by severe pain in the lower abdomen, frequent urination urgency and burning when urinating. Most of these infections are caused by Escherichia coli (bacterium normally present in the intestine which, through the skin of the genitals and anus, can penetrate the urethra). BEARBERRY is recommended by the "German Commission E" for the treatment of acute and chronic urinary tract infections, including cystitis. This property is given by hydro-quinonic glycosides, molecules that are split at intestinal level into glucose and hydroquinone. The latter is excreted by kidneys and therefore reaches the urinary tract where it performs an antibacterial and antiseptic action, preventing the growth of bacteria responsible for infections such as E. coli, S. aureus, B. subtilis. It also acts as a diuretic, promoting the elimination of the microorganisms responsible for the infection.
After reaching the age of 50, the most frequent urogenital problem in male population is prostate enlargement. The factors (hormonal, biochemical, nutritional, etc.) that govern the  prostate physiology, evolving and changing with the aging of the subject, lead to an increase in the size of the prostate cells. The enlarged prostate thus compresses the urethra, making urination more difficult. The oil extracted from PUMPKIN SEEDS is rich in LINOLEIC ACID, which inhibits the enzyme 5-alpha reductase, which converts testosterone into di-hydrotestosterone. If in excess, the latter causes alopecia and causes the prostate to enlarge.
This website does not provide any medical advice. Information on this Website is provided for informational purposes only and is not intended as a substitute for the advice provided by your doctor or other healthcare professional. You should not use the information on this Website for diagnosing or treating a health problem or disease, or prescribing any medication or other treatment. You should always speak with your doctor or other healthcare professional before taking any medication or nutritional, herbal or homeopathic supplement, or adopting any treatment for a health problem.